About Project
Vinify is a brand that offers a wide range of wines for the greatest wine tasters. It has wines from South Africa, Chile, France and many others. But when the clients came to us, Vinify existed only on paper. They had a business plan, which they wanted to bring to life. To this, it was necessary to create an e-store. The customer desired a high-quality eCommerce platform that could be expanded in tandem with the company's growth. The client came to us with a vision of design that was challenging to implement.
The Challenges
One of the most important aspects of this project was to implement a distinct design while considering user experience (including, for example, enhanced filtering for the client). However, the more layout contains custom, advanced features, the more necessitated broad backend development. The key points of the project were as follows:

One-step checkout
Enhanced filtering
Dedicated customer profile
Gift cards, Wine Boxes

The second challenge was introducing solutions that are suitable to the business model based on sales products from several importers with an involved logistics partner. To find the best solution, we initially conducted extensive research to understand the market business and the client's actual needs.
Providing a variety of automation, including inventory management and matching categories and features taking into account SEO guidelines.
Design Implementation
Vinify UI/UX professionals created a modern design concept based on bold typography and white space which gives your entire site breath. The website look is very tasteful, but at the same time has lots of features that making easy for customers looking for the wine which their need. We implemented the whole design on the Magento platform. We have made every effort to build a platform structure that is compatible with the design. We took care of integration with plugins, automation and implementation of layout.
The main advantages of implemented design:
Extensive product filtration
The most important information see at first glance
Easy adding to cart and selecting sets
Related products
Gift cards
Wish list 
Supply Chain Automation
Vinify's business model is a mixing of dropshipping and 3PL Fulfilment. As in case dropshipping Vinify seels goods based on the assortment of different wholesalers but uses the fulfillment services of a logistics company. Owing to that customers when ordering originating wines from different importers get one package instead of a few separate ones. Our company takes care that the entire process is automated and digitized. Stock levels all wholesalers are updating with store assortment in real-time. Together with Vinify, we have created an advanced inventory management algorithm for importers and logistics operators. Therefore We have introduced a function that informs importers about the need to order goods to maintain smooth deliveries when a number of bottles drop under a fixed number. Innovation business model on the wine market and all supply chain automation make possible express delivery. 
The main advantages of Supply Chain Automation:
The platform might be managed with fewer team members
Continuously current wine stocks
Optimizing the filling of the warehouse
Saving time on the delivery process
"Wine boxes"
Box ordering function isn't only a more economic option for customers but also helps reduce the amount of warehouse documentation. Usually, sets are separate positions on stock levels which unnecessarily complicate the managing of inventory. Created by us automation treats wine boxes in the system as 6 separate bottles.

The main advantages of "Wine boxes" system:
Clarity of information in documentation
Extra functional for customers to make order process easier
One-step Checkout
When a client wants to make a modification in the multi-step checkout every form must be loaded again. Customers can become irritated and abandoned purchases. One-step Checkout is the solution to this problem. All form fields are visible on one page from contact details, through delivery methods, to payment.
The main advantages of One-Page Checkout:
Users have a better experience with the purchasing process
Shorter the consumer path reduce Cart Abandonment
SEO optimization
To build a satisfactory position on the search engine results page we take care of On-Site Optimization, meta descriptions, tags, keywords, right headlines, internal linking, and setup analytics tools (e.g. Google Analytics). We've also been keeping a close eye on what's going on with the Vinify eCommerce platform since its launch. If we discovered an issue, we responded quickly as possible to fix it.
The main advantages of SEO optimization:
Increased organic traffic to the site
Increased visibility of the site
Better conversion because of SEO and UX combination
Gaining an advantage over the competition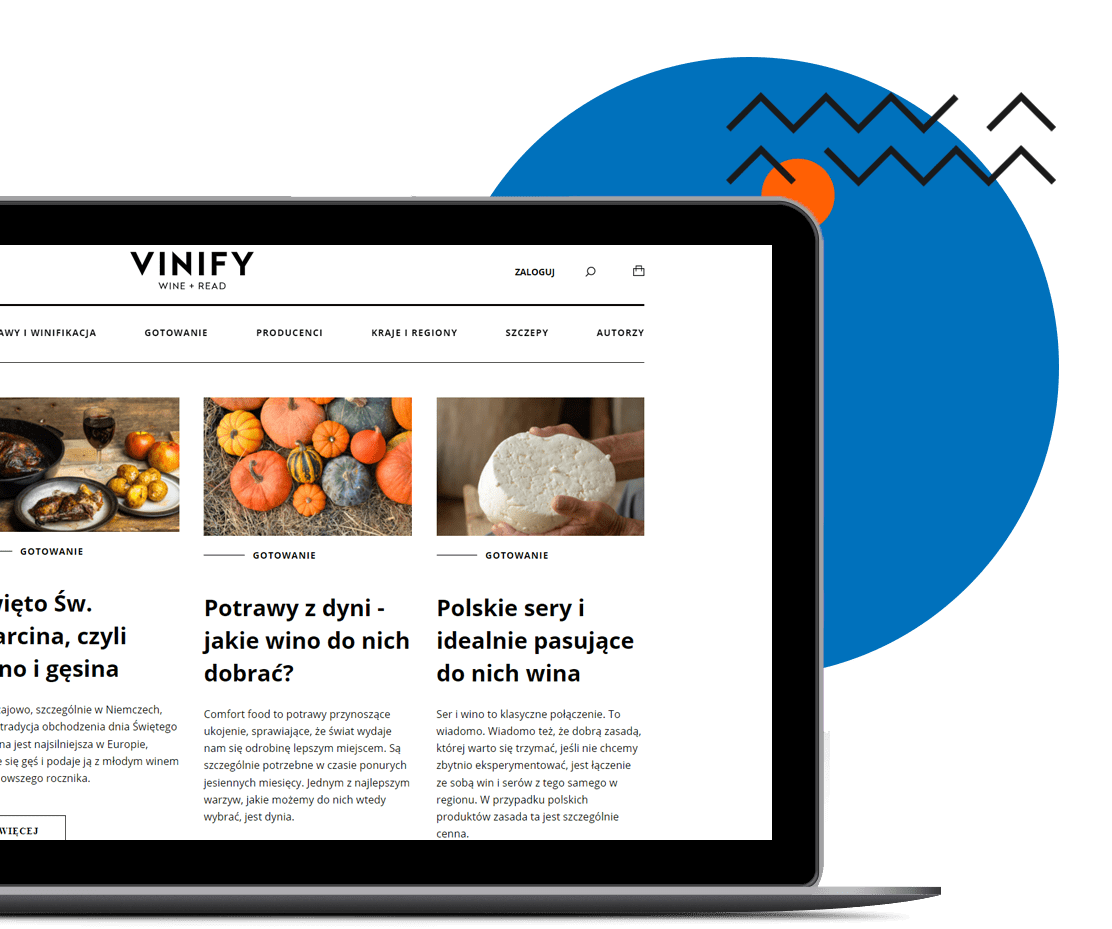 Proven Results
In this way, we create a brand-new eCommerce website based on Open Source Magento 2 Platform. It gives clients possible to grow their business and update to Magento 2 Commerce anytime.
Let's Work Together!
Contact us and let's talk about how we can improve your business, together.