What is Marketing Automation?
Marketing automation is the use of intelligent software to customize your brand's message for existing and new consumers based on customer data. It isn't about replacing marketers or sales agents. The idea is to automate routine, repetitive tasks for employees so that they can focus on creative tasks. These are tools that support marketing work not just by improving repetitive tasks but also by learning the user's digital body language. Data collection takes place only with the consent of the client.
Creating scenarios is closely related to marketing automation. Scenarios allow you to plan your automation rules.Sample: registered on the list / via X form (event) – wait 3 days – send email Y (action) + add tag def
Marketing Automation benefits your business 
Over 75% of companies declare that they use Marketing Automation (Social Media Today, 2019). The list of advantages that each company finds in this solution can be long, but we chose the most frequently repeated ones:
Get quality leads
Thanks to the marketing automation system and scoring mechanisms, you can easily get high-quality leads. Clients who are ready to convert are recognized based on prior behaviour, such as:
those who add the product to the cart and visit the payment page but abandon the purchase,
the users who have left their contact information,
the ones that visited the website after clicking on the link sent via mail.
Give a more personalized experience
Tons of information flood customers every day and they expect content tailored for them in the most convenient form. Since Marketing automation use AI that it can learn the behaviour of users, and we can adjust our actions to the client's preferences or even speculated moods. Automation provides a strategy that reaches the client across a variety of channels, at different times.
Create Long-Term Customer Relationship 
By personalizing the customer experience, you also gain their trust in the brand. You increase the chances that they will come back to buy your product or service. Customer satisfaction can also contribute to the development of word-of-mouth marketing. If the client believes the brand and has positive feelings towards it, he will be happy to recommend it to others.
Measure the Performance of Marketing Campaigns
Measuring the effectiveness of various marketing activities may be tricky. The use of marketing automation makes it easier to track the performance of certain actions. Measurement can lead to improved process optimization. It is easier to estimate what activities and how much contributed to the increase in sales.
Save Time
Marketing automation frees up staff time to focus on other crucial activities, such as creating content or developing novel strategies. Some automation tools may also automate social media posting, which also saves time and money because you need fewer people to handle your accounts.
Who should use Marketing Automation?
Any kind of business that operates through digital channels may profit from marketing automation. Thanks to the collection and analysis of data, we can flexibly adjust solutions to the target group. As a result, whether you target your offer to B2B or B2C clients, it can help your company. Because marketing automation may be applied in many ways, the industry has no bearing on this. 
However, not every organization is prepared for it. Before implementing the marketing automation system, you should plan ahead of time and create goals to make the best use of the available possibilities. To create goals wisely, you should check which repetitive processes can be automated, what benefits you will get from them and how you will measure the performance.
Try Magento Automation
Automate your Supply Chain and store managing with Magento solutions.
Do only the giants get on the benefits? Is marketing automation also for small businesses?
Marketing automation may seem hard to implement and too expensive for small or even medium-sized companies. However, it is an investment that will increase your income and save time. In addition, it will make it easier for you to measure the growth of your company. There are quite a few affordable platforms on the market from which you can choose the best option for you. 
Examples in different industry
Automation scenarios may look different depending on the different industries. It all depends on how customers interact with your product. Therefore, in each industry, automation tools can be used in many ways. Below are some examples from our experience. Due to the convenience of the tool and partnership, we usually use SALESmanago for automation.
Medical clinic
Based on the information about the user's appointments, a clinic may create personalized messages. For example, when a patient hasn't confirmed a visit to the system, they can make a scenario in which specific reminder messages will be sent three days before. In addition, if in the system is information about consultations for treatment, the clinic can send the user content related to the preparation for such a visit. They can also inform about closely related services that will be necessary, e.g. control visits.
Sports challenges/sports events
Based on the data, the organizer can automate the process of informing participants about the progress of the challenges. They may also define the rules for sending content depending on the group, achievements, e.g. kilometres run or the number of completed challenges.
App for ordering grocery shopping
An app can send push-ups with a discount if the user has downloaded the app and left an email but hasn't finished a purchase. This way they can be encouraged to use the app again. In addition, messages can be targeted depending on the location and local offers or based on previous orders.
Wine store on Magento platform
In such a store, you can apply automation that sends notifications to users who add bottles of wine to the cart and for some reason fail to complete their purchases. The system allows you to configure the time interval at which e-mails should be sent.
Which mistakes you should avoid when you use Marketing automation?
Everyone makes mistakes and it's a normal stage of learning, but maybe thanks to our list you will avoid some basic mistakes at the beginning of your adventure with marketing automation.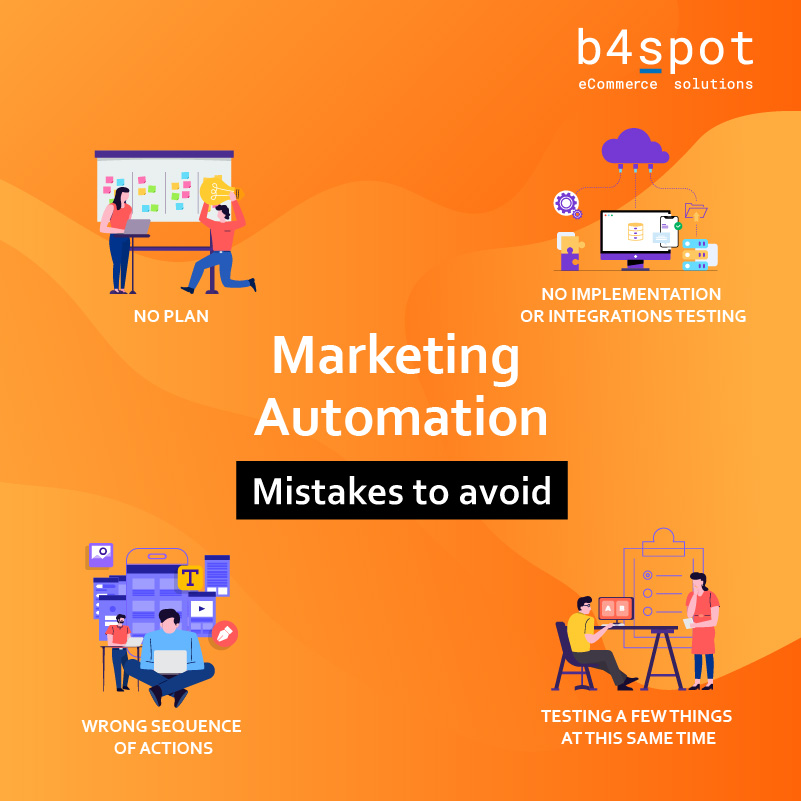 No plan
The mistake you can make at the start is not planning your actions. Your strategy is the key to a successful campaign. Besides, different tools offer different options so you should have set goals to be able to adjust them to the solution. 
Not integrated with database
Without integration, your tool won't be able to connect to your database, you will unable to generate unique experiences based on information from your database. If you don't have the integration, you don't use the full potential of your software.
Focusing on quantity, not the quality of leads 
When you have a lot of leads, don't try to create content for everyone. Focus on creating appropriate communication with people who are potentially most interested in your product. Use the collected data and evaluate the quality of leads.
Not testing and optimizing
You prepare the content, you rely on the data from the database, but you do not test different variants to find the most optimal solution. You then rely on your gut feeling that the content is good. It's not always a good way.
Testing a few things at this same time
When you test several things simultaneously, you are unable to determine which of them worked and which was an unnecessary change. You are unable to learn for the future.
Leaving new subscribers without a word 
When you are at the beginning of your journey, you take care to gain new leads, but you don't care about contact with users from the beginning. You leave it for later when you have more records in the database. Unfortunately, failure to establish contact with customers may result in losing their interest.
Sending un-thoughtful content 
You start using automation, you collect customer data, but you don't use it to actually personalize your message. The only thing that is personalized in the e-mail is the name. You will be disappointed because it's standard. You should understand your customers and adjust the content.
No checking before sending
When preparing the content in a hurry, you can forget to check the link actions and the correctness of discount codes or CTA buttons. Little shortcomings can make potential customers discouraged from communicating.
Few Marketing Automation tools
Each software has different advantages. It is worth getting acquainted with the offer of several or even several dozen to choose the best fit. 
Some shortlist of Automation Tools: 
Marketo Engage
It's the most popular tool. Supports marketing on many levels, including e-mail marketing, CRM integration, search engine optimization, and creating reports. The program allows you to log in using social media accounts that extend information about a potential customer. A bit expensive.  
Pardot
Pardot is another powerful tool similar to Marketo, but with a more intuitive, easy-to-use interface. Also, it wins when we want advanced options in email marketing, SMS marketing, multivariate landing page testing, lead management and integrations. It's often chosen by B2B companies.
SALESmanago
SALESmanago is an automation tool in many fields. It has extensive options that allow you to create behavioural profiles thanks to the identification of users on the website. Excellent for mid-size companies. 
ActiveCampaign
ActiveCampaign allows you to define goals and respond quickly to consumer activity by sending an SMS, e-mail, or beginning a conversation. It has also a CRM system that may also be used to automate sales. Good for starting. 
HubSpot
A basic plan is an excellent tool for small company owners. HubSpot is a good option if you're searching for an "all-in-one" platform that provides the fundamental functionality of multiple other marketing systems. 
Conclusion
When asked "Is it worth using marketing automation?" our answer is yes. They provide opportunities on a very wide level. In brief, they are mainly meant to help you optimize your working time and personalize your customer experience. There are many tools on the market that can more or less suit the needs of your business. It is worth considering which choice will be appropriate and preparing accordingly for the implementation of the selected system.
[DISPLAY_ULTIMATE_SOCIAL_ICONS]
Want to start a project?
B4SPOT team will be excited to take your ideas into action. Please contact us right away to discuss your journey.